Our 50 Years of Unique Service
North Carolina Humanities marks its 50th anniversary in 2022 as the leading nonprofit organization charged with advancing public access to and support for the humanities across the state.
Created in 1972 under Congressional mandate, North Carolina Humanities is the state affiliate of the National Endowment for the Humanities (NEH) and one of 50+ such organizations nationally. Today, we are among the largest and oldest cultural funders in the state, providing grants and humanities-based programs for libraries, museums, historical societies, schools, and other cultural and educational organizations.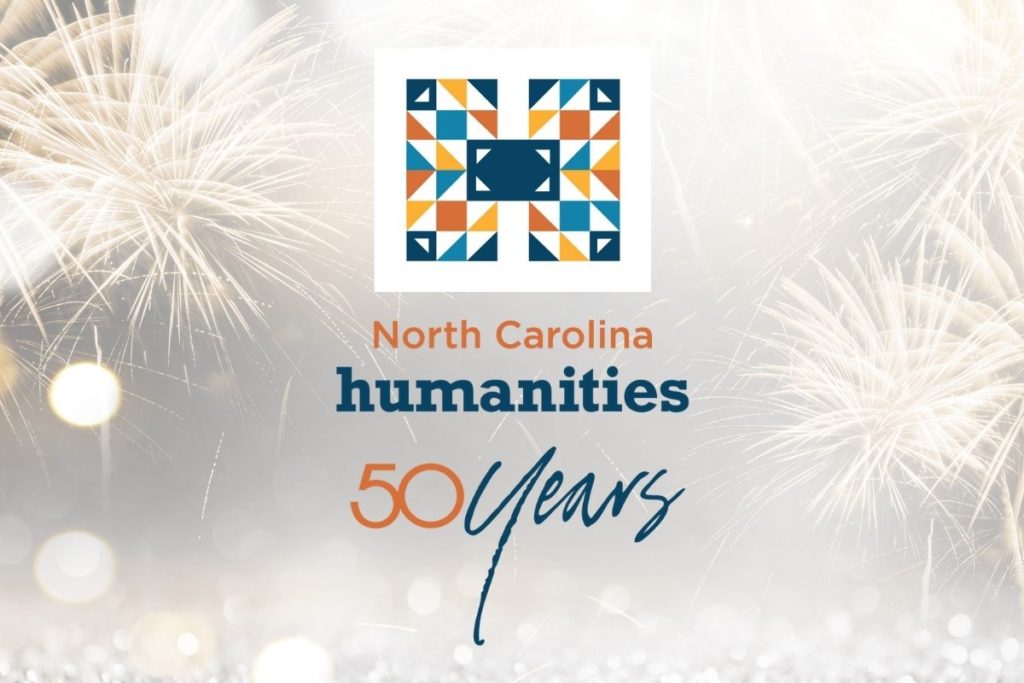 We could not do our work without the support of so many. We want to thank all those who have been involved with North Carolina Humanities throughout these wonderful 50 years – from our founding committee members in 1972, to previous staff, board alumni, current trustees, grantees, community scholars, program partners, and everyone in between. They are the reason North Carolina Humanities will continue strong for the next 50 years.
Highlights of North Carolina Humanities' 50th anniversary celebrations in 2022:
North Carolina Reads: Attend one of our free statewide book club events starting in February 2022. You'll hear from book authors and topic experts and discuss the month's book with others. North Carolina Reads features five books exploring issues of racial, social, and gender equality and the history and culture of North Carolina. North Carolina Reads is made possible in part by NEH.
Visit a Smithsonian exhibit: Starting mid-2022 we'll bring the Smithsonian Institution exhibit Crossroads: Change in Rural America to six sites in North Carolina. The exhibit offers small towns and rural communities a chance to reflect on the changes that have affected their paths and imagine the future of rural for their community.
More for teachers and students: From K-12 to higher education, we will supply more free resources, books, and discussion materials for teachers and educators to use.
Read for the Lead: North Carolina Humanities is partnering with NASCAR Cup Series driver Erik Jones and his charitable foundation, the Erik Jones Foundation, to promote a statewide reading initiative involving North Carolina-based authors and books.
#NCH50: Join our virtual birthday party! Share memories, stories, reflections, and birthday messages on social media by tagging North Carolina Humanities @NCHumanities throughout 2022 and using the hashtag #NCH50. You can also share your message with us by completing this form.
$50for50: North Carolina Humanities is encouraging those who wish to make a celebratory gift to donate $50 in honor of the 50th anniversary. Gifts can be made online or by mail. A donation to North Carolina Humanities works right away to help build a better future for all North Carolinians. We appreciate each donation, of any size, because it directly enables North Carolinians to better understand themselves and the experiences of others – a vital first step towards empathy.
Other 50th anniversary events and programs will be announced throughout 2022. Those interested can stay up to date by subscribing to our e-newsletter at nchumanities.org.