News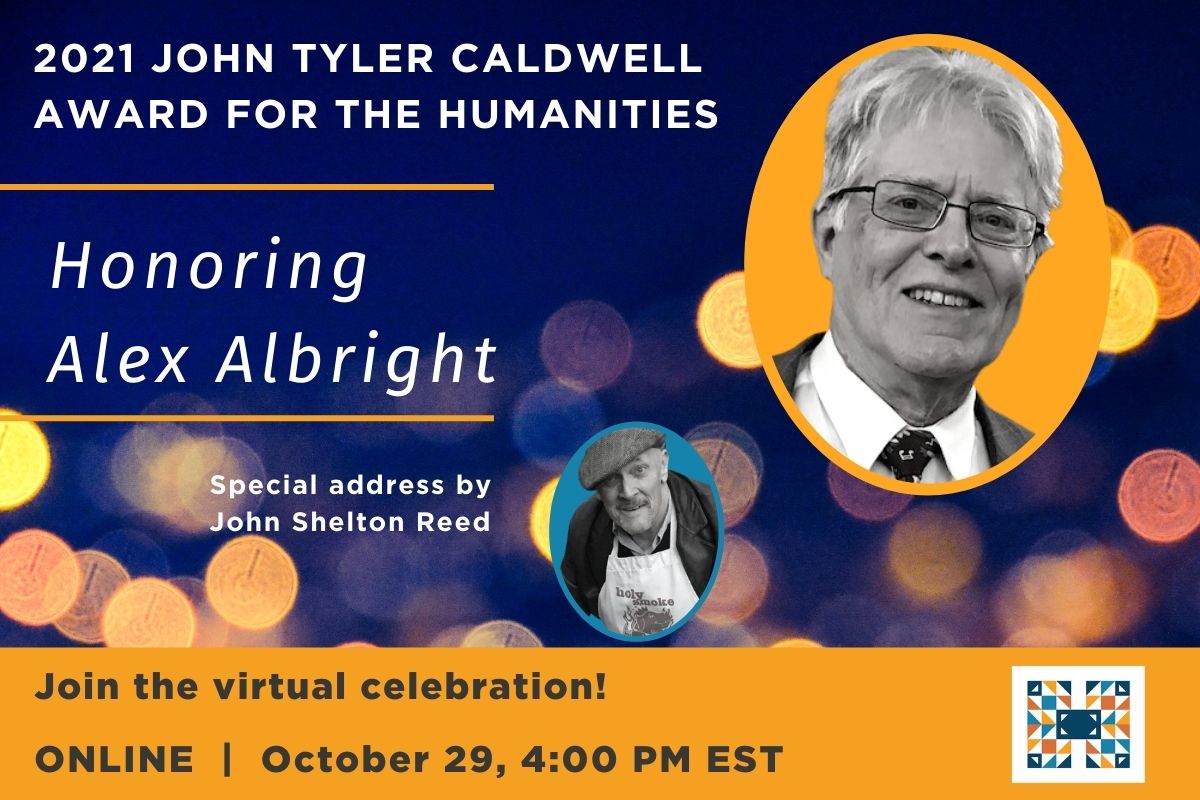 Alex Albright to Receive North Carolina Humanities' 2021 Caldwell Award
October 2021
(October 5, 2021) CHARLOTTE, N.C – North Carolina Humanities has selected Alex Albright to receive the 2021 John Tyler Caldwell Award for the Humanities. Albright is being honored for his statewide impact and dedication to creative writing, teaching, and humanities advocacy.
The John Tyler Caldwell Award for the Humanities honors distinguished individuals who have strengthened the educational, cultural, and civic life of North Carolinians through their life's work. The award is named for its first recipient and a founding member of North Carolina Humanities, the late Dr. John Tyler Caldwell. Recently recognized Caldwell Award laureates include: James W. Clark, Jr. (2020), Jaki Shelton Green (2019), Margaret D. Bauer (2018), and Bland Simpson (2017).
The John Tyler Caldwell Award for the Humanities program will air online on Friday, October 29, 2021 starting at 4:00 PM EST.
The program will be available to watch for free on NC Humanities' Facebook and YouTube pages. All are welcome to join, and registration is not required.
As part of the 2021 celebration, southern writer and lecturer John Shelton Reed will give a special address on southern culture, focusing on arguably the region's most acclaimed food: barbeque.
A native of North Carolina, Albright's work and list of accomplishments reflect his dedication and admiration of the American South, in particular, eastern North Carolina.
Albright worked in public relations and retail books before embarking on a 38-year career as an educator. As a professor at East Carolina University (ECU), he helped shape many students and writers, teaching mostly creative nonfiction writing. He also served as the director of the MA program in creative writing for nine years. Albright retired from ECU in 2018.
During his time at ECU, Albright founded the North Carolina Literary Review and was its first editor from 1991-1996. The North Carolina Literary Review is a statewide magazine that supports new and emerging writers, reintroduces forgotten authors, and showcases interviews, book reviews, and writings that are complemented with the work of artists and photographers. Since its founding, the magazine has grown to be one the state's most valued literary magazines. In 2015 the North Carolina Literary Review established the Alex Albright Prize in Creative Nonfiction Writing.
Albright has edited numerous editions of the work of North Carolina poet A.R. Ammons and anthologies of poetry, notably Leaves of Greens: The Collard Poems, with Luke Whisnant. He is also the writer and co-producer of the UNC-TV documentary Boogie in Black and White, a story about the making of the movie Pitch a Boogie Woogie that was filmed in Greenville, NC in 1947 with a local cast of African American musicians and actors. His book The Forgotten First: B-1 and the Integration of the Modern Navy was a finalist for the 2014 Montaigne Prize.
Today, Albright is the owner and operator of R.A. Fountain, General Store, a business which also includes an e-store and a small press which has published five books and a CD. Passionate about his community and civic engagement, he is currently serving on the Pitt County Board of Commissioners. Albright lives in Fountain with his wife Elizabeth. Their son Silas is sports editor at the Waynesville newspaper The Mountaineer.
Please join North Carolina Humanities in celebrating Alex Albright as the recipient of the 2021 John Tyler Caldwell Award for the Humanities on October 29 at 4PM EST on Facebook and YouTube.
Thank you to the North Carolina Literary Review and the North Carolina Writers' Network for sponsoring this event.
For sponsorship inquiries or questions about the program, please contact Melanie Moore Richeson at mmoore@nchumanities.org or (704) 687-1520.
About North Carolina Humanities: Through public humanities programs and grantmaking, North Carolina Humanities serves to connect North Carolinians with cultural experiences that spur dialogue, deepen human connections, and inspire community. North Carolina Humanities is a statewide nonprofit and the North Carolina affiliate of the National Endowment for the Humanities. Learn more at www.nchumanities.org.
Press contact: Melanie Moore Richeson, North Carolina Humanities, mmoore@nchumanities.org, (704) 687-1520