Grant Recipients, News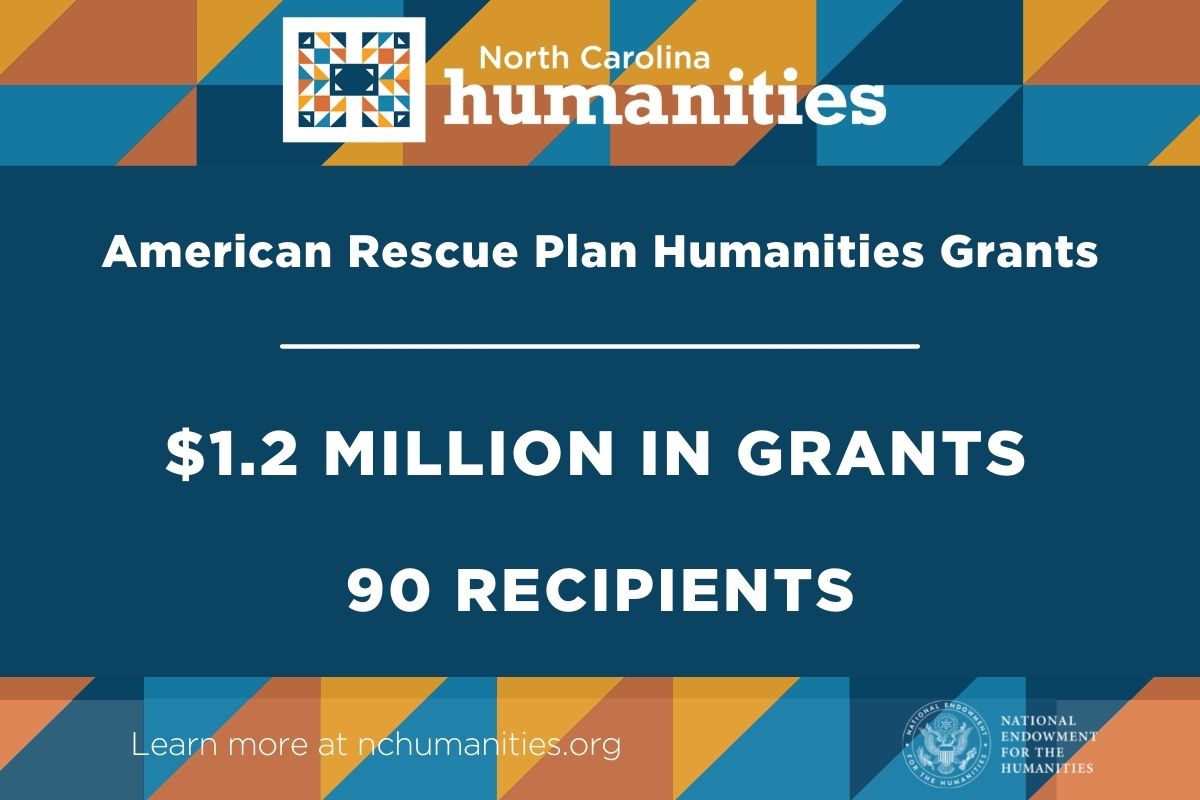 NC Humanities Awards Over $1.2 Million to 90 Cultural Organizations for COVID-19 Response and Recovery
September 2021
(September 23, 2021) CHARLOTTE, N.C. – North Carolina Humanities has awarded a total of $1,271,060 in American Rescue Plan Humanities Grants to 90 North Carolina cultural organizations.
The 90 grantees represent a broad range of cultural nonprofit organizations and public agencies, including regional museums, local historical societies, community groups, and libraries, who will use the funds to support their operational costs and restart or create new humanities programs to reconnect communities.
"Over the past year we have witnessed how important conversation, empathy, and learning are to our nation and state," said Sherry Paula Watkins, Executive Director of North Carolina Humanities. "As one of the state's oldest and largest public cultural funders, NC Humanities is honored to support North Carolina's cultural sector with this latest round of grants. These organizations are at the heart of our communities and the important work they are doing ensures that North Carolinians have access to and benefit from the humanities."
Funding for North Carolina Humanities American Rescue Plan Humanities Grants was provided to North Carolina Humanities by the National Endowment for the Humanities through the American Rescue Plan Act of 2021 (ARP), approved by Congress and signed into law by President Biden in March 2021. The $1.9 trillion ARP package included $135 million in supplemental funding for the National Endowment for the Humanities, nearly $51.6 million, or a total of 40%, of which was sent to the state and jurisdictional humanities councils across the nation, including North Carolina Humanities, to distribute to local cultural nonprofits and programming.
These grants were over and above North Carolina Humanities' normal grant funding opportunities. To learn more about North Carolina Humanities' other grants and programs, please visit www.nchumanities.org.
The following organizations were awarded American Rescue Plan Humanities Grants from North Carolina Humanities as of September 2021.
Learn more about these grantees by visiting www.nchumanities.org.
American Rescue Plan Humanities Operating Support Grantees:
Funding supports staff salaries, rent or utilities, securing and protecting property and collections, and other general operating costs for organizations affected by COVID-19.
Alamance County Historical Museum (Burlington)
Alleghany Historical Genealogical Society (Sparta)
Alliance for Heritage Conservation (Chapel Hill)
Black Mountain College Museum + Arts Center (Asheville)
Boundary End Archaeology Research Center (Barnardsville)
Caldwell Heritage Museum (Lenoir)
Charlotte Museum of History (Charlotte)
City of Raleigh Museum (Raleigh)
Climbers Club of New Bern (New Bern)
Core Sound Waterfowl Museum (Harkers Island)
Earl Scruggs Center (Shelby)
Dunn Area History Museum (Dunn)
East White Oak Community Center (Greensboro)
Edenton Historical Commission (Edenton)
Harvey B. Gantt Center for African American Arts + Culture (Charlotte)
Historic Cabarrus Association (Concord)
Historic Jamestown Society (Jamestown)
Historic Preservation Society of Durham (Durham)
Historic Salisbury Foundation (Salisbury)
Historical Foundation of Hillsborough and Orange County (Hillsborough)
Historical Society of Topsail Island North Carolina (Topsail Beach)
Johnston County Heritage Center (Smithfield)
Korner's Folly Foundation (Kernersville)
Magnolia House Foundation (Greensboro)
McDowell County Historical Society (Old Fort)
Mount Airy Museum of Regional History (Mount Airy)
Museum of Ashe County History (Jefferson)
Museum of the Albemarle (Elizabeth City)
Levine Museum of the New South (Charlotte)
Nash County Historical Association – Stonewall Manor (Rocky Mount)
National Humanities Center (Durham)
North Carolina Museum of History Foundation (Raleigh)
North Carolina Pottery Museum (Seagrove)
North Carolina Transportation Museum Foundation (Spencer)
Outer Banks Conservationists (Manteo)
Preservation Greensboro (Greensboro)
Rockingham County Historical Society Museum and Archives (Reidsville)
Rowan Museum (Salisbury)
Sandhills Family Heritage Association (Spring Lake)
St. Joseph's Historic Foundation (Durham)
Traditional Voices Group (Burnsville)
Transylvania Heritage Museum (Brevard)
Veterans History Museum of the Carolinas (Brevard)
Western North Carolina Historical Association (Asheville)
Wilkes Heritage Museum (Wilkesboro)
American Rescue Plan Humanities Project Support Grantees:
Funding supports costs directly associated with restarting humanities projects impacted by the pandemic, creating new humanities projects, digitizing humanities resources/collections and making them available online, humanities projects highlighting North Carolina's COVID-19 experience, and other program services.
1901 Building Group (Kinston)
Asheville Art Museum Association (Asheville)
Asheville Creative Arts (Black Mountain)
Association of Mexicans in North Carolina (Greenville)
Arts of the Pamlico (Washington)
Center for Cultural Preservation (Hendersonville)
Chapel Hill Public Library (Chapel Hill)
Charlotte Is Creative (Charlotte)
Diamante Arts & Cultural Center (Cary)
Duplin County Library (Kenansville)
First Colony Foundation (Manteo)
First United Methodist Church Charlotte (Charlotte)
Gaston County Public Library (Gastonia)
Greensboro Literary Organization (Greensboro)
Haliwa-Saponi Indian Tribe (Hollister)
Hidden Voices (Cedar Grove)
Historic Hillsborough Commission (Hillsborough)
Historic Jarvisburg Colored School (Jarvisburg)
International House of Metrolina (Charlotte)
Iredell County Public Library (Statesville)
Iredell Museums (Statesville)
Johnson C. Smith University (Charlotte)
Kidzu Children's Museum (Chapel Hill)
Louise Wells Cameron Art Museum (Wilmington)
Marian Cheek Jackson Center for Saving and Making History (Chapel Hill)
National Montford Point Marine Association NC Triad Triangle Chapter 38 (Haw River)
NCDNCR – North Carolina African American Heritage Commission (Raleigh)
North Carolina Museum of Natural Sciences (Raleigh)
NorthStar Church of the Arts (Durham)
Old-Time Music Group (Durham)
Our Daily Bread Foundation (Charlotte)
Person County Museum of History (Roxboro)
Preservation Zebulon (Zebulon)
Public Library of Charlotte and Mecklenburg Library (Charlotte)
Red Dirt Productions (Asheville)
SouthEnd ARTS (Charlotte)
Southern Documentary Fund (Durham)
Stanly Community College Foundation (Albemarle)
Stanly County Museum (Albemarle)
Student Action with Farmworkers (Durham)
Surry Arts Council (Mount Airy)
Triad Cultural Arts (Winston-Salem)
Wake Forest Historical Museum (Wake Forest)
Wayne County Public Library (Goldsboro)
Western Piedmont Symphony (Hickory)
About North Carolina Humanities: Through public humanities programs and grantmaking, NC Humanities connects North Carolinians with cultural experiences that spur dialogue, deepen human connections, and inspire community. North Carolina Humanities is a statewide nonprofit and affiliate of the National Endowment for the Humanities. Learn more at www.nchumanities.org.
NC Humanities Press Contact: Melanie Moore Richeson; (704) 687-1520; mmoore@nchumanities.org